Jurassic World: Dominion Dominates Fandom Wikis - The Loop
Play Sound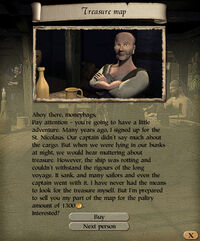 Treasure Map
is a mission that can be found in the
Tavern
's
Side Room
. It is an infrequent mission, appearing approximately every 25 days, though it will reamins available in the Side Room for around a week.
The map bearer offers you the first piece of a nine-piece treasure map. If you buy it, a treasure quest is started which you will have a few weeks to complete.
The Other Pieces
You can buy the other eight map pieces from Informers at various Taverns. An Informer with a treasure map piece charges considerably more than one with regular information. Starting at around 600 to 700 gold, the cost of map pieces rises for each new treasure quest.
It is not normally necessary to buy all nine pieces to deduce where the treasure is to be found. The central piece (with 'X' marking the spot) is a great help but not always essential.
To recover the treasure, you will need to sail a ship over the precise location of the 'X'. Treasure is typically worth from 15,000 to 25,000
.
The Informers that have the map pieces are placed all over the Hanse, though not randomly. The following are the usual combinations:
Ladoga - Torun - Aalborg - Scarborough - Groningen - Ripen
Novgorod - Riga - Stettin - Malmo - Bergen - Hamburg - London - Cologne
Reval - Gdansk - Oslo - Edinburgh - Bruges - Bremen
You can see (and submit) some maps on the Treasure Maps page. Some map screenshots can also be found at R. Josephs' site, page 1 and page 2.
When any of your ships reaches the spot, you will receive the treasure's value in gold.